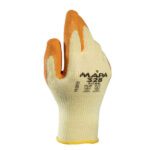 MAPA Titan 328 Natural Latex Handling Protective Gloves
August 16, 2023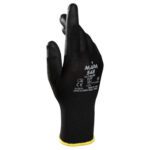 MAPA Ultrane 548 Polyurethane foam Anti-Cut Protective Gloves
August 16, 2023
MAPA Titan 388 Nitrile Handling Protective Gloves
Comfort and durability for heavy-duty work
Download:
MAPA Titan 388 Datasheet
Related products
Rated 4.00 out of 5

Luxor™ Protective Eyewear

Designed for safety, comfort and style, Luxor Protective Eyewear guards against myriad eye hazards. The one-piece wraparound glasses protect against impact hazards and/or flying particles, dust, sparks and glare. The glasses feature Tuff-Stuff™ scratch-resistant lenses, adjustable temples, soft nose pads and a frameless design.

EGP

345.00

Rated 4.00 out of 5

The MSA V-Gard Helmet, with its distinctive trademark "V" design, is a world recognized brand known for comfort, quality, and durability. MSA has sold well over 100 million V-Gard Helmets since its introduction – so many in fact, that the iconic "V" design has been a mainstay for many years on even the toughest worksites. When you want the best comfort, quality and durability worn by millions across the globe, you need to buy the original MSA V-Gard Helmet, settle for nothing less.

EGP

299.00

The Advantage 200 LS is a comfortable, efficient and economic half mask. It is ideal for applications where workers are exposed to various hazards from job to job, such as high concentrations of fumes, mists and gases.

With its patented MultiFlex system the Advantage 200 LS offers maximum protection and high wearing comfort. The soft, pliable combination of rubber and plastic provides a customised and pressure-free fit, instantly conforming to the wearer's unique facial characteristics.
The Advantage 200 LS comes in three sizes and has a full range of cartridges and filters to protect against harmful particles and gases.