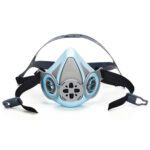 MSA Advantage 900 Elastomeric Half-Mask Respirator P/N 10218528
August 13, 2023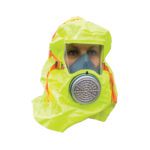 MSA S-CAP Hood
August 13, 2023
MSA Comfo Classic® Half-Mask Respirator P/N 808053
The SoftFeel® facepiece of the Comfo Classic Half-Mask Respirator makes this unit dramatically more comfortable. The material increases the softness of both Hycar rubber and silicone, which are the two facepiece materials available with Comfo Classic respirators. The unit's unique face seal design also provides an exceptional fit.
HIGHLIGHTS
SoftFeel facepiece increases rubber and silicone softness.
Face seal design provides tight, comfortable fit.
---
Download
Related products
This highly visible, one-size-fits-all yellow hood offers protection against smoke and gas from fires, especially carbon monoxide. The easy-to-use unit dons quickly and features a nose cup for a wide variety of head and face sizes, while the cotton neck seal ensures a tight fit. The high-performance filter offers thorough protection, while the wide lens provides an increased field of vision and the low breathing resistance reduces claustrophobia.

Rated 5.00 out of 5

The FLIR GF320 detects hydrocarbon and volatile organic compound (VOC) emissions from natural gas production and use. With this optical gas imaging camera, inspectors can check thousands of components and see potential gas leaks in real-time. The GF320 is lightweight, offers both a viewfinder and LCD monitor, and has direct access to controls. Embedded GPS data helps in identifying the precise location of faults and leaks, for faster repairs.

EGP

9,876.00

Developed with firefighters from around the globe, the Gallet F1 XF sets the new standard for structural firefighting helmets.

It enters a new dimension of protection, functionalities integration, comfort of use and modularity.

The configurable design makes the Gallet F1 XF fire helmet the perfect fit for various interventions such as structural and outdoor fires, technical rescue operations and road traffic accidents.