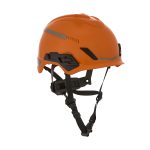 MSA V-Gard H1 Trivent Orange Safety Helmet
October 15, 2023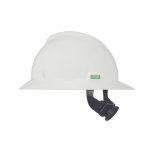 MSA V-Gard White Hat Helmet
October 16, 2023
MSA V-Gard H1 Trivent Yellow Safety Helmet
Related products
The Advantage 200 LS is a comfortable, efficient and economic half mask. It is ideal for applications where workers are exposed to various hazards from job to job, such as high concentrations of fumes, mists and gases.

With its patented MultiFlex system the Advantage 200 LS offers maximum protection and high wearing comfort. The soft, pliable combination of rubber and plastic provides a customised and pressure-free fit, instantly conforming to the wearer's unique facial characteristics.
The Advantage 200 LS comes in three sizes and has a full range of cartridges and filters to protect against harmful particles and gases.

The MSA Advantage 900 Elastomeric half-mask respirator provides healthcare professionals, essential workers and first responders a secure protection solution. The Advantage 900 is also the first elastomeric respirator to be approved with both a speaking diaphragm and no exhalation valve, thereby providing enhanced communication and filtration of exhaled breath to help achieve source control. Elastomeric respirators are a cost-effective and eco-friendly alternative over filtering facepiece respirators.

The full face mask series Advantage 3000 provides both protection and unparalleled comfort. The soft sealing line made of hypoallergenic silicone provides a pressure free fit.

The large, optically corrected lens ensures a clear, undistorted view, while the grey-blue colour gives the mask an aesthetic appearance.

Donning the Advantage 3000 is unbelievably quick, simple and accomplished without painful hair pulling. The patented Advantage head harness gives a perfect face piece-to-face fit.