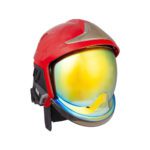 MSA Gallet F1XF Fire Helmets
August 14, 2023
MAPA Jersette 301 Chemical Natural Latex Gloves
August 15, 2023
MSA Luxor Dark Eyewear
Designed for safety, comfort and style, Luxor Protective Eyewear guards against myriad eye hazards. The one-piece wraparound glasses protect against impact hazards and/or flying particles, dust, sparks and glare. The glasses feature Tuff-Stuff™ scratch-resistant lenses, adjustable temples, soft nose pads and a frameless design.
HIGHLIGHTS
Protective frameless glasses feature scratch-resistant layer, adjustable temples and soft nose pads
Available in clear or gray lenses
Related products
Working at heights safety helmet designed for tower climbing, forestry, rescue and confined spaces – now available in the new V-Gard H1 Pro version

The V-Gard® H1 Safety Helmet provides exceptional comfort and ease of use in a stylish low-profile hard hat design. A complete above-the-neck platform for all applications.

The new M1 SCBA is a modular system breathing apparatus that can be reconfigured or upgraded whenever needed and conveniently in the field! Retrofittable with several different options

The M1 SCBA  is fully customizable and can be configured to meet a broad range of firefighter needs. Buy per your budget needs and upgrade later – directly in the field.

Overall, the M1 breathing apparatus represents the most advanced, ergonomic and modular SCBA system on the market which was designed and developed side-by-side with firefighters. This all-new breathing apparatus platform includes several innovative and customizable features that help to enhance hygiene and improve comfort.

Developed with firefighters from around the globe, the Gallet F1 XF sets the new standard for structural firefighting helmets.

It enters a new dimension of protection, functionalities integration, comfort of use and modularity.

The configurable design makes the Gallet F1 XF fire helmet the perfect fit for various interventions such as structural and outdoor fires, technical rescue operations and road traffic accidents.