MAPA Jersette 301 Chemical Natural Latex Gloves
August 15, 2023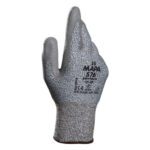 MAPA KryTech 576 Polyurethane Anti-Cut Protective Gloves
August 16, 2023
MAPA DUO NIT 180 Latex Nitrile Chemical Protective Gloves
The Mapa Duo-Nit 180 provides the user with a high level of product protection and wearing comfort. Natural latex nitrile mixture, inside velourised, outside chlorinated. Liquid-tight and highly resistant to oils and greases, even in long-term contact. High dexterity due to anatomical fit and flexibility of the material. Palm with profile for more grip. Application: Cleaning and general maintenance work, handling oily small parts.
Related products
MSA's compressed airline breathing apparatus provides a supply of safe air wherever air is irrespirable or oxygen deficient. The corresponding accessories include compressed air filters, automatic switch valve, and MASS trolley system to ensure air quality and deliverability.

Rated 3.00 out of 5

Providing the highest-rated protection available for low-frequency environments, the MSA HPE Headband Muffs are designed specifically for very high noise levels and is ideal for airfields, power plants and other areas with intense noise. A padded headband and super-soft ear cushions guarantee all-day comfort while ensuring full-time protection.

EGP

1,234.00

The new M1 SCBA is a modular system breathing apparatus that can be reconfigured or upgraded whenever needed and conveniently in the field! Retrofittable with several different options

The M1 SCBA  is fully customizable and can be configured to meet a broad range of firefighter needs. Buy per your budget needs and upgrade later – directly in the field.

Overall, the M1 breathing apparatus represents the most advanced, ergonomic and modular SCBA system on the market which was designed and developed side-by-side with firefighters. This all-new breathing apparatus platform includes several innovative and customizable features that help to enhance hygiene and improve comfort.