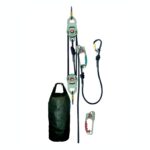 MSA Rescue Utility System
July 24, 2023
SIC LOTO SIC-HVC-01
July 24, 2023
FLIR E8 Thermal Imaging Camera
The FLIR E8 Pro is your must-have tool for locating and diagnosing electrical, mechanical, and building problems. Quickly pinpoint hot spots and easily identify problems with vibrant thermal imagery supported by FLIR-patented MSX® (Multi-Spectral Dynamic Imaging) enhancement. Your inspections will be more efficient because you can do all your work from the touchscreen: organize your photos, add detailed notes, and upload them directly to the FLIR Ignite cloud for convenient access from any device. When you're ready to share images and create client reports, your images and notes are already available for your use in FLIR Ignite or FLIR Thermal Studio for the most streamlined experience.
Related products
The FLIR K65 is the advanced, feature-rich thermal imaging camera you need when NFPA® compliance is a must. With fully sealed connectors and a secured battery, the K65 is designed to be fully compliant with the NFPA 1801-2021 Standard for Thermal Imagers covering usability, image quality, and durability for firefighting.

The FL500 Ultraviolet / Infrared Flame Detector delivers high speed flame detection with increased false alarm immunity in a compact design

The FL500 UV/IR Flame Detector monitors for radiation emitted by a flame in both the ultraviolet (UV) and infrared (IR) spectral ranges. This UV/IR combination provides a fast response time and increased false alarm immunity against sources of radiation for reliable protection.

EVOLUTION® 6000 Plus Thermal Imaging Camera

Evolution 6000 Plus thermal imaging camera adds additional tools to aid and improve fireground safety and decision making

New Evolution 6000 TIC from MSA is the most advanced and rugged thermal imaging camera ever built. New and enhanced features include best in class image quality, light weight, laser pointer and range finder. NFPA 1801-compliant model provides the industry's best mix of features to support the thermal imaging needs of every fire department, rescue organization, strike team, or HazMat crew. Operation includes NFPA Basic Mode and additional features in NFPA Plus Mode. Temperature readout is offered in Fahrenheit or Celsius.

Evolution 6000 Plus TIC: standard integrated flashlight/laser pointer, optional laser range finder/laser pointer (replaces flashlight if selected), compass, 2x/4x zoom, 6 color palettes, transmitter option.