E-Square ES-CLO-EL
July 28, 2023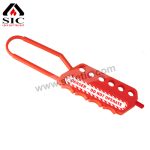 SIC LOTO Nylon HASP SIC-E-NHASP66
July 28, 2023
Related products
This type 2 sound level meter meets ANSI and IEC 651 Type 2 standards. Ideal for noise surveys in the workplace, installing fire alarms and speaker systems and enforcing noise ordinances. Measures from 35 to 130dB in 2-ranges with accuracy of plus or minus 1.5dB. Data hold and Max hold functions. Backlit display allows use in dimly lit areas. Complete with microphone wind screen and 9V battery.

Working at heights safety helmet designed for tower climbing, forestry, rescue and confined spaces – now available in the new V-Gard H1 Pro version

The V-Gard® H1 Safety Helmet provides exceptional comfort and ease of use in a stylish low-profile hard hat design. A complete above-the-neck platform for all applications.

EGP

5,000.00

Ideal for confined spaces

The Rescue Utility System is primarily used for raising and lowering people or equipment in rescue and industrial work access and ideal for confined space applications. A 4:1 rescue pulley system Pulleys are equipped with a built-in anti-reversing lock. Offers rapid deployment, is virtually maintenance free, and is rated for two-person load.