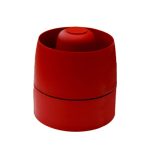 Detnov MAD-464-I Addressable loop sounder with built-in isolator
October 22, 2023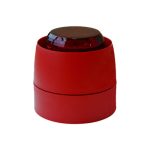 Detnov MAD-465-I Addressable loop sounder with beacon and built-in isolator
October 22, 2023
Detnov SCD-200 Indoor alarm sounder with 32 selectable tones
Indoor alarm sounder. 32 selectable tones. Power at 24Vdc / 7mA at 32mA according to tone. IP21. Red color. Acoustic power 95 up to 100 dB according to tone. CPR certificate EN54-3. Dimensions: 85×75 mm.
Related products
General Monitors® S5000 Gas Monitor

The General Monitors S5000 Gas Monitor is the ultimate gas detector for extreme environments needing to detect oxygen, toxic and combustible gases

It operates over a wide temperature range using a variety of gas sensing technologies. Breakthrough XCell® gas sensors with TruCal® technology extends calibration cycles up to 24 months and actively monitors sensor integrity for ultimate peace of mind.

The IR5500 is an open path infrared (IR) gas detector that continuously monitors for flammable gas leaks over large open areas. It monitors in both the LEL-m and ppm-m ranges to detect both small and large leaks. The IR5500 offers the benefits of early detection with its high sensitivity to gas concentrations at the ppm levels.  This feature allows it to alarm faster than an LEL-only detector. Digital display and adjustable mounting arms ensure easy alignment. Factory calibrated for low-maintenance operation.

Ultima® X Series Gas Monitors

Ultima X Series Gas Detector for indoor or outdoor continuous monitoring of hazardous gases.

Designed to provide thorough, continuous monitoring of many hazardous gases, the indoor/outdoor Ultima X Series Gas Monitors offer excellent performance and MSA quality craftsmanship. DuraSource™ Technology offers extended sensor life, while HART provides convenient setup, calibration and diagnostics. HART also allows for existing component install and wiring to be used. A single circuit board increases reliability, while our patented sensor disconnect-underpower feature allows all sensors to be replaced in hazardous areas without area declassification.