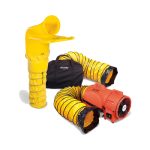 Allegro Industries 12″ Axial AC & DC Plastic Blower System 9520-43M
November 5, 2023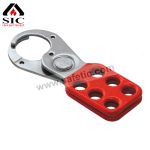 SIC LOTO Vinyl Hasp SIC-HVC-S
November 5, 2023
Allegro Industries Full Mask Supplied Air Respirator, Low Pressure 9901
Our Full Mask continuous flow supplied air respirator is made of silicone rubber for durability and will hold its shape even in extreme heat and cold. The double sealing flange provides an improved face-to-mask seal and a deep chin pocket provides a better, more comfortable fit. The replaceable polycarbonate lens offers a wider, distortion-free viewing area with an anti-fog, anti-scratch coating. A removable hairnet means greater comfort and fits easily under a hard hat. The unique "over the shoulder" hose design clips at the collar and an adjustable belt holds the air hose out of the way of work. It comes with OBAC quick connects. One size fits most. NIOSH approved.
Related products
Full Face Mask Respirator achieves best in class comfort

PremAire Escape is a positive pressure short duration compressed air emergency escape breathing device (EN 402) that provides the user with respiratory protection while escaping from toxic atmospheres. The components of the respirator withstand high levels of potential industrial gas leaks and harsh chemical environments. With its intuitive donning procedure that takes less than 5 seconds, the PremAire Escape enables the wearer to escape without difficulty from a potentially hazardous environment. It offers an air supply of 10-15 minutes duration. The standard PremAire Escape is equipped with a 3S full face mask. For potential high concentration industrial gas leaks, like deadly H2S, the device is available with the PremAire Hood.

MSA G1 Self Contained Breathing Apparatus is designed solely with your safety and comfort in mind.

The G1 SCBA offers integrated and enhanced solutions to exceed your needs today as well as years into the future.