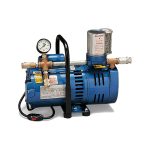 Allegro Industries A-750 Breathing Air Pump 9821-E
November 5, 2023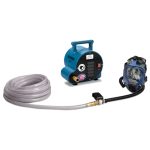 Allegro Industries Full Mask Breathing Air Blower Respirator Systems 9200-01AE
November 5, 2023
Allegro Industries Airline Hose, Low Pressure 9100-25
Our Low Pressure Airline Hoses are NIOSH approved when used with Allegro's Supplied Air Respirators. Constructed from rugged polyvinyl chloride and reinforced with braided polyester yarn. These hoses provide a temperature range from -20° F to 150° F (-28.8° C to 65.5° C). Manufactured with OBAC quick-connect couplers. Maximum Pressure is 185 psi @ 70° F (12.76 bar @ 21.1° C).
Related products
The SoftFeel® facepiece of the Comfo Classic Half-Mask Respirator makes this unit dramatically more comfortable. The material increases the softness of both Hycar rubber and silicone, which are the two facepiece materials available with Comfo Classic respirators. The unit's unique face seal design also provides an exceptional fit.

Rated 3.00 out of 5

Providing the highest-rated protection available for low-frequency environments, the MSA HPE Headband Muffs are designed specifically for very high noise levels and is ideal for airfields, power plants and other areas with intense noise. A padded headband and super-soft ear cushions guarantee all-day comfort while ensuring full-time protection.

EGP

1,234.00

The new M1 SCBA is a modular system breathing apparatus that can be reconfigured or upgraded whenever needed and conveniently in the field! Retrofittable with several different options

The M1 SCBA  is fully customizable and can be configured to meet a broad range of firefighter needs. Buy per your budget needs and upgrade later – directly in the field.

Overall, the M1 breathing apparatus represents the most advanced, ergonomic and modular SCBA system on the market which was designed and developed side-by-side with firefighters. This all-new breathing apparatus platform includes several innovative and customizable features that help to enhance hygiene and improve comfort.