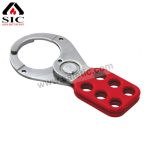 SIC LOTO Vinyl Hasp 6mm Shackle SIC-HVC-P
November 5, 2023
MAPA TempDex 710 Nitrile Sandy Thermal Protective Gloves
Related products
NRR: 31

SRR: 36

Rating: HIGH

P/N 10190358

EGP

2,000.00

Rated 4.00 out of 5

Luxor™ Protective Eyewear

Designed for safety, comfort and style, Luxor Protective Eyewear guards against myriad eye hazards. The one-piece wraparound glasses protect against impact hazards and/or flying particles, dust, sparks and glare. The glasses feature Tuff-Stuff™ scratch-resistant lenses, adjustable temples, soft nose pads and a frameless design.

EGP

345.00

Developed with firefighters from around the globe, the Gallet F1 XF sets the new standard for structural firefighting helmets.

It enters a new dimension of protection, functionalities integration, comfort of use and modularity.

The configurable design makes the Gallet F1 XF fire helmet the perfect fit for various interventions such as structural and outdoor fires, technical rescue operations and road traffic accidents.