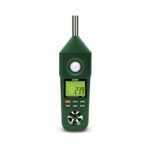 EXTECH EN300 5-in-1 Environmental Meter
July 27, 2023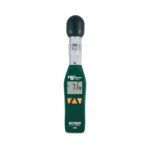 EXTECH HT30 Heat Stress WBGT Meter
July 27, 2023
EXTECH HD350 Pitot Tube Anemometer + Differential Manometer
GENERAL SPECIFICATIONS
Air Velocity (ft/min)

200 to 15733ft/min
Air Velocity (ft/min) Basic Accuracy

±1% full scale
Air Velocity (ft/min) Max Resolution

1ft/min
Air Velocity (km/h)

3.5 to 288.0km/h
Air Velocity (km/h) Basic Accuracy

±1% full scale
Air Velocity (km/h) Max Resolution

0.1km/h
Air Velocity (knots)

2.0 to 154.6knots
Air Velocity (knots) Basic Accuracy

±1% full scale
Air Velocity (knots) Max Resolution

0.1knots
Air Velocity (m/s)

1 to 80.00m/s
Air Velocity (m/s) Basic Accuracy

±1% full scale
Air Velocity (m/s) Max Resolution

0.01m/s
Air Velocity (mph)

2.25 to 178.66mph
Air Velocity (mph) Basic Accuracy

±1% full scale
Air Velocity (mph) Max Resolution

0.01mph
Air Volume (CFM)

0 to 99,999
Air Volume (CFM) Basic Accuracy

±3% of reading
Air Volume (CFM) Max Resolution

0.001
Air Volume (CMM)

0 to 99,999
Air Volume (CMM) Basic Accuracy

±3% of reading
Air Volume (CMM) Max Resolution

0.001
Linearity/Hysteresis

±0.29 full scale
Max Pressure

10psi
Pressure (inH?O)

20.07inH₂O
Pressure (inH?O) Basic Accuracy

±0.3% full scale
Pressure (inH?O) Max Resolution

0.01inH₂O
Pressure (mbar)

50.00mbar
Pressure (mbar) Basic Accuracy

±0.3% full scale
Pressure (mbar) Max Resolution

0.01mbar
Pressure (mmH?O)

509.8mmH₂O
Pressure (mmH?O) Basic Accuracy

±0.3% full scale
Pressure (mmH?O) Max Resolution

0.01mmH₂O
Pressure (Pa)

5000Pa
Pressure (Pa) Basic Accuracy

±0.3% full scale
Pressure (Pa) Max Resolution

1Pa
Pressure (psi)

0.7252psi
Pressure (psi) Basic Accuracy

±0.3% full scale
Pressure (psi) Max Resolution

0.0001psi
Temperature (Air)

32.0 to 122.0°F (0 to 50°C)
Temperature (Air) Basic Accuracy

±3°F/1.5°C
Temperature (Air) Max Resolution

0.1°
---
ADDITIONAL DETAILS
Certifications

CE
Dimensions

8.2 × 2.9 × 1.9″ (210 × 75 × 50mm)
Power

1 × 9V battery
Warranty

3 years
Weight

12oz (340g); 7.2oz (204g)
---
The HD350 is a Pitot tube anemometer and differential manometer. Measures Differential pressure in 5 selectable units of measure and includes a Pitot tube and 2 connection hoses for measuring Air Velocity/Air Flow. Additional features include data hold, auto power off, zero function, plus manually record/recall up to 99 readings. Built-in USB port. Complete with software and USB cable, 9V battery, pitot tube with two 33.5 in. (85 cm) connection hoses and hard carrying case.
Related products
This type 2 sound level meter meets ANSI and IEC 651 Type 2 standards. Ideal for noise surveys in the workplace, installing fire alarms and speaker systems and enforcing noise ordinances. Measures from 35 to 130dB in 2-ranges with accuracy of plus or minus 1.5dB. Data hold and Max hold functions. Backlit display allows use in dimly lit areas. Complete with microphone wind screen and 9V battery.

AN200 is a CFM/CMM Mini Thermo-Anemometer with built-in InfraRed Thermometer. Built-in non-contact IR Thermometer measures remote surface temperatures to 500°F (260°C) with 8:1 distance to spot ratio and Laser Pointer. This CFM/CMM Thermo-Anemometer can simultaneously display of Air Flow or Air Velocity plus Ambient Temperature. Easy to set area dimensions (ft² or m²) are stored in the meter's internal memory for the next power on. Additional features include: 20 point average for Air Flow and 3% velocity accuracy via low friction 2.83 in.D (72mm) ball bearing vane wheel on 3.9ft (120cm) cable. Comes complete with 9-Volt battery, protective rubber holster, and case.

The 407730 sound level meter measures from 40 to 130dB with an accuracy of 2dB. The digital display offers a 0.1dB resolution and features a fast responding analog bar graph. User can choose A or C weighting. Max Hold captures highest reading. Includes microphone wind screen and four AAA batteries.