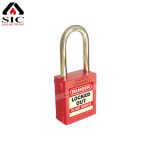 SIC LOTO Steel Shackle Padlock SIC-SSPL-KD-Red
November 2, 2023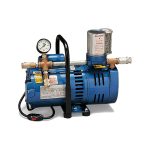 Allegro Industries A-750 Breathing Air Pump 9821-E
November 5, 2023
Allegro Industries Vortex Cooling Vest 8300-01
The air vest is designed to afford cooling to personnel in circumstances where air conditioning is not feasible. The vest connects to any existing clean compressed air source. Engineered jets keep the wearer continuously cooled with refrigerated air. The airflow enhances the body's natural evaporative cooling while also keeping grit, dust, and fibers out. Available with a vortex cooler for additional cooling effect.
Related products
The full face mask series Advantage 3000 provides both protection and unparalleled comfort. The soft sealing line made of hypoallergenic silicone provides a pressure free fit.

The large, optically corrected lens ensures a clear, undistorted view, while the grey-blue colour gives the mask an aesthetic appearance.

Donning the Advantage 3000 is unbelievably quick, simple and accomplished without painful hair pulling. The patented Advantage head harness gives a perfect face piece-to-face fit.

Our versatile welding respiratory protection system, complete with new shade 5-9/13 autochange welding shield.

NEW heavy Duty Shield, heat resistant, with user adjustable external controls for shade settings and grinding mode.

NEW Lightweight Li-ion batteries.

Complete with a TH2PSL particulate filter and 5 pre-filters.

The Advantage 200 LS is a comfortable, efficient and economic half mask. It is ideal for applications where workers are exposed to various hazards from job to job, such as high concentrations of fumes, mists and gases.

With its patented MultiFlex system the Advantage 200 LS offers maximum protection and high wearing comfort. The soft, pliable combination of rubber and plastic provides a customised and pressure-free fit, instantly conforming to the wearer's unique facial characteristics.
The Advantage 200 LS comes in three sizes and has a full range of cartridges and filters to protect against harmful particles and gases.